Rent A Now or Used Car in Kabul / Afghanistan
Afghan Logistics provides a wide-range vehicle rental and lease solutions for our valued clients and business partners, where most of other Afghan Car Rental Companies cannot provide you can easily Rent A Car in Kabul / Afghanistan from us on daily weekly, monthly or long-term basis, with and without driver.
All our drivers speak English & are well-trained professionals who know the city well. Our solo purpose is to get you to your destination on time, safely, happily and hassle free. Our vehicles can be hired for any purpose, with driver or without you may choose to hire a car from Afghan Logistics for self-driving in Kabul, on daily weekly or monthly basis our company will provide you with complete maintenance service any time your car need maintenance, refueling or washing just give us a call and we will service you within 30 minutes.
To rent or lease any of our Cars, Vans, SUVs or Buses on daily, weekly, monthly or long-term basis please click here.
Below are some photos of our fleet vehicles, you may notice that all of them are Toyota vehicles it is because through our 16 years of experience we have learned that Toyota Vehicles are the friendliest, reliable and easy to repair vehicles in Afghanistan due to lack of standard roads, low fuel quality and availability of parts therefore we prefer to have Toyotas in our fleet, if you need any other models or prefer to have any other models we can easily source and supply for you, but Afghan Logistics will not guarantee the roadworthy of other model vehicles.
All vehicles of our fleet whether for 24 hours taxi services, rental or lease services are subject to the same stringent quality control. Please see Our Fleet Policy for details.
Terms & Conditions:
All quotations can be provided with and without fuel, maintenance and driver.
As an added value armed security guard, translator/ fixer and, guide can be provided with vehicle rental and lease services the charges would be according to client level of requirements, we can provide different level of skill armed security guard, translator/ fixer and guide at a different level of charges, on daily, weekly, monthly and long-term basis.
The vehicle rental and lease rates in Kabul city would be a fixed rate on daily, weekly, monthly and long-term basis, but the vehicle rental and lease rates for out site of Kabul will be based on distance of the trip and period of the contract.
Usually we will provide quotations and rates based on Kabul city area of operations, if you plan to go outside of Kabul please mention that prior getting the quotation from us in order to quote you precisely, we need as much detailed information as possible regarding your day to day operations.
If vehicles rented  or leased with driver and fuel the insurance of our driver, our vehicle and third party loss is covered by our insurance policy the second party ( the client ) and any other staff of the client who use our vehicles for the entire period of rental or lease contract is not covered in Afghan Logistics insurance policy the second party / the client need to arrange the insurance for his / her  staff who use Afghan  logistics vehicles through their own insurance resources.
Afghan Logistics cannot guarantee any loss of the clients, and business partners  raised due to accidents, explosion or attacks while using our services whether it be life or property and will not  bear any cost raised due to medical, recovery or evacuation circumstances.
Rates are negotiable for long -term rental & lease services.
Due to the current volatility in oil-prices, our rates may be subjected to change at point of rental and lease services.
Cancellation Policy: for city and airport picks and drops 6 hours before the services starts and for daily usage 24 hours before the service starts failure to this a 50 % charge of the booking amount will be applied, for weekly and daily flat bookings a one-day full charge will be applied no matter when the client cancels, but for long -term contract one month prior notice is required if the client cancel a long-term contract less than a month prior notice one month rental of the each vehicle will be charged as a penalty fee.
Afghan Logistics reserve the right to cancel any booking made by clients and business partners at any time without prior notice to clients and business partners cancellation reasons include, but are not limited to the following:
In case of noticing the destination of the client is not safe or it is not in green zone
In case of an emergency
in case unpredicted situations.
In case of late or not show up
In case of violation of the terms and condition of the contract
In case of abusing our staff
In case of carrying unlicensed or illegal items in our vehicles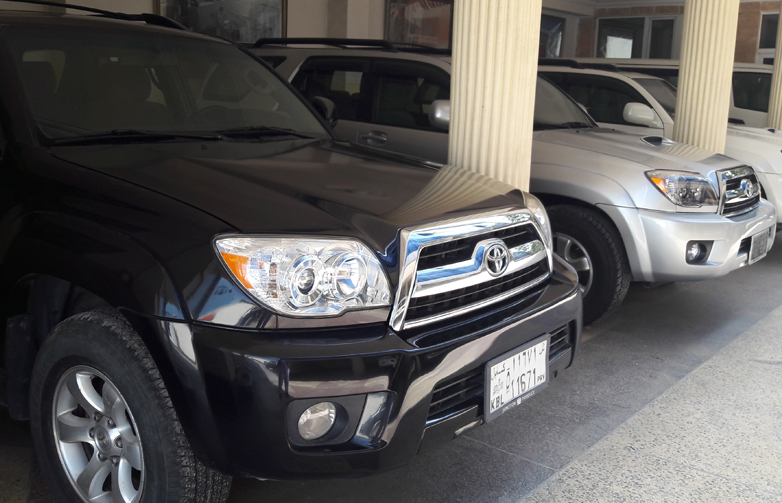 To contact us and get car rental & lease services quotation click here